Air-Con Monitor the Air-conditioning energy saving occupancy sensor switch
Air-
Con Monitor is a low cost DIY British designed device that automatically & Wirelessly switches Off Air-
conditioning in an unoccupied room to Save Energy. Additional features depending on model include night sensor, real time on off sensor timer, door sensor and temperature control. Easy to use USB PC software. Air conditioning units (Heating and Cooling) are one of the most energy and money consuming devices in the home, holiday letting, hotel and office environments.
It is a well known problem that leaving Air conditioning units for heating and cooling switched on when vacating a room or leaving doors open is very common. This wasted energy will consume a large amount of power adding a substantial amount to your electricity bill, overworking the appliances and also consequently resulting in damage to the environment.
Ideal for Offices, Hotels and Holiday Rentals where air conditioning is intentionally left running whilst no one is there, dramatically increasing your running costs
Introducing the new British designed and manufactured innovative energy saving device Air-Con Monitor that will automatically switch off these power consuming devices when the room is left empty for a predefined period of time.
£39.99
£35.99
(for 4 or more)
£33.99
(for 8 or more)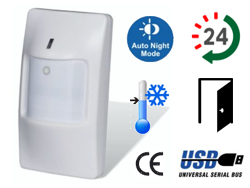 £49.99
£44.99
(for 4 or more)
£42.49
(for 8 or more)
Cut Electricity bills by 20-50%.
Self Learning IR Remote Control Automatically switches Air-conditioning off, (or any other remote controlled device) when the room is left empty for a pre-set time.
Control on-off times, night sensor & optional open door sensor to turn off Air-Con.
Temperature control feature to pre-set your desired temperature minimum level, to further help save energy when the room is occupied and the temperature is set too low on the remote.

Designed to look like an Alarm PIR to avoid drawing attention and tampering.

DIY - No need for wires or complex installation.

Totally wireless, simply fix on a wall.

Best seller product for the current economy.

Effective solution for Green Environment.

Low-cost device with High-Savings and quick return on investment.

Designed and made in the UK with CE certification.