Air-Con Monitor Basic - Air-conditioning energy saving sensor
Air-
con Monitor Basic is designed for monitoring unoccupied rooms where a cost effective solution to saving energy is required where just broad monitoring is adequate.
Air-con Monitor Basic allows you to monitor a room and manually programme a time delay to instruct the monitor to send the IR signal to the air-conditioning unit to switch it off. You have a choice of either 15, 30 or 60 minutes before the monitor sends the command if no movement has been detected within your set time.
The monitor also incorporates a light sensor so that if you do not require the sensor to switch off the air-con during the hours of darkness e.g. in a bedroom you can then activate this feature to ensure the occupants comfort.
The unit has built in learning to enable you to programme you air-conditioning remote control off command into the unit, this allows the Air-con Monitor to send the exact same signal to your air-con unit to switch it off. Because the unit is sending the same signal to your air-con unit this ensures that the unit closes down as intended and does not void any guarantee you may have.
Installation of the monitor is simple as it is stand alone requiring no wiring or professional installation. The unit is powered by two AA batteries which will give you over 12 + months usage. Once you have programmed in your remote off command into the monitor (which will remain in the memory even if there is no power) you simply only need to fix to a position where it can send the signal to the air-conditioning unit.
Air-Con Basic is set up manually on the sensor unit and does not require a PC connection.
Air-con Monitor has been designed using a standard alarm type housing to disguise its real function enabling it to blend in with a room and unlikely to be tampered with by occupants.
£39.99
each or
£35.99
(for 4 or more)
£33.99
(for 8 or more) + P&P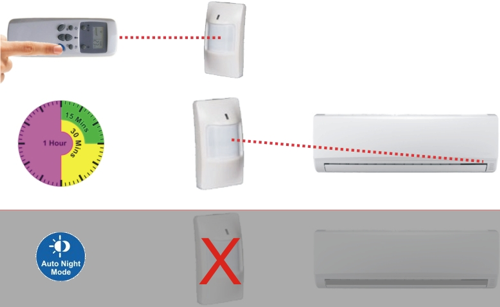 To Program the Basic Unit:-
Program the off command from your remote control by pointing your controller at the monitor and pressing off




Set the amount of time no movement is detected in the room by the monitor before it sends the IR off command to the air-

conditioning unit



? If desired you can optionally disable the monitor to turn off at night, for example in a bedroom.